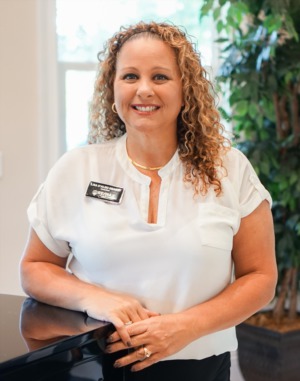 Energetic. Passionate. Knowledgeable. All about the customer! I always believe the customers needs and concerns are the number one priority. My goal is to be available to my customers and to work with their best interest in mind all the time. I am dedicated and committed real estate agent who vows and goes above and beyond for my customers. My energy, easy going style and my unmistakable 30 years resident of Flagler County. I live in Palm Coast with my husband, and my two sons.. In my free time I enjoy spending time on the sand of Flagler Beach with my family. I also believe in giving back to my community. I grew up in Palm Coast and have strong ties to my community. I volunteer at my children's school, and with the community organized #FlaglerStrong volunteer group. I have worked at my family's business in St. Augustine for 25 years. With this knowledge of the area and the business makes me the ideal choice for helping with all your real estate needs. I graduated from Flagler Palm Coast High School . My aspiration is to make real estate my lifelong ambition.I am very well rounded in various aspects of the real estate industry with a experience in the residential marketplace and have strong real estate sales know-how. If you are thinking about building a home I have assisted clients in all of the phases from working with design, construction and right to closing. I will be there from the beginning to the end of the process and will happily help you open the door to your new home.
Testimonials
Lisa helped me both to buy and sell a property in Palm Coast over the past few years. She has an incredible amount of patience and knowledge with the search process as well as with the selling process. She was always available to show a property or just to talk about a property. Lisa went above and beyond at all times. I recommend her without hesitation.
09/10/2021 - laurafrancesco
Lisa is a high-energy agent who responded immediately to all my questions and concerns regarding our huge move from North Carolina to Florida. She left no stone un-turned in seeing to it that our new home was "move-in" ready when we arrived in Palm Coast. I could not recommend her more highly so if you are looking for an agent who can meet you needs, Lisa will not only fill the bill, she will amaze you.
08/23/2021 - posnerj23
Lisa was very helpful in getting our new home and got us just what we wanted. Always kept us informed on new listings. She guided us through the closing and everything went well. Lisa was always respectful and polite. I would highly recommend Lisa to be your realtor agent. Thanks again Lisa
08/03/2021 - bob t jordan
Lisa was fantastic to work with. The Real Estate market had just started becoming an outrageous seller market, unfortunate for a buyer like me. Lisa was diligent, responsive and transparent with me every step of the way. Her diligence was so important especially in this market because it could easily determine the outcome of the sale, or no sale. As this was my first time purchasing a condo Lisa explained everything to me and walked me through what I would need to know and do upon closing regarding the HOA, etc. Not only did I purchase the condo, I paid a fair price and was not caught up in the bidding wars. This was solely due to Lisa's communication with the seller and seller's agent. With three other offers presented with in two days I did not pay over the asking price and the agreement was agreed upon even with the seller conceding on a couple issues. I could not be happier with my purchase and with all thanks to Lisa Gearst for her hard work to see the deal come to fruition.
04/28/2021 - terafrassrand6
She was great to work with, we moved from Michigan and we only had a week to find a house, she made sure that was accomplished, she was available 24/7, had answers to all my questions or she found the answer. She treated us like a friend not just a client.
03/02/2021 - clm613
More Testimonials